MBA Admission In India 2023-24 Fees & Eligibility Criteria
In this blog we are going to discuss all about MBA admission in India for 2023-24 session. MBA or commonly known as the degree for Master of Business Administration was first launched in the USA during the 1900s. The MBA course was introduced to the public especially when the country became more industry-oriented and thereby the companies started to look for management that is scientific in their approach and stance in the business world.
It should be known that with the help of these MBA Admission programs, companies can easily make sure that there is consistency in the field and quality education is imparted to the students. There are several business schools out there that provide programs that are simply tailored to executive, distance learning, part-time and full-time students. Executive studies, in this case, are meant by the coursework that takes place during the weekends or night-time, since the candidates have their jobs to tender to.
Some of the MBA Admission programs also include a curriculum of some of the popular core MBA subjects related to business management such as marketing, accounting, operations control, economics and so on. There are various types of elective courses as well that helps the candidates to generally follow their professional or personal interests. There will also be some specific business schools for MBA Admission out there that ensure that their students complete an internship at an organization or company before they pass their MBA course. This helps in improving the overall job opportunities for the students as well. It should be remembered that quality or reputed business schools will always make sure that their students enjoy at least some years of experience when it comes to professional work before they can start studying for their MBA course.
PGDM
It should be kept in mind that PGDM mainly stands for Post Graduate Diploma in Management. The course generally extends for two years and is currently offered by numerous business schools all over India. The course for these two years is segregated into four or six semesters – all depending on the overall curriculum and the specific business school in question.
As of the current structure, all the business schools in India that are responsible for offering the PGDM courses have all been officially approved and suggested by AICTE. It should be known that AICTE is an educational body that is under the Ministry of HRD, governed by the Indian Government.
What Are The Differences Between PGDM And MBA?
Master of Business Administration or MBA is a master's degree, which means that only recognized colleges or business schools that are affiliated with the governing body of an MBA can provide such a degree in Business Administration. It should be known that such universities are only capable of providing or offering a single curriculum for such a course like MBA and thereby also tend to provide other related degrees like doctorate or bachelor.
On the other hand, PGDM is a course that is being offered by institutes or colleges that are generally not affiliated with any recognized universities. These colleges are also not at all authorized to offer such degrees as well. This is the reason why most of these colleges provide diploma courses, which are generally seen as on the same level as the MBA course.
Eligibility Criteria For MBA Admission in India 2023-24
When it comes to the eligibility criteria for getting into the MBA Admission in India for 2023-24 session, it should be remembered that the student requires at least a three-year graduation degree. Furthermore, the candidate will also require at least 50 percent aggregate marks in such a graduation course that he or she have passed. The aggregate marks percentage is 45 percent for students from the SC/ST community or are from the PWD (have a certain disability) category.
Students will also need to qualify for the MBA Admission in India entrance exams that are held, depending upon the university or the institute in question. It should be remembered that these eligibility criteria change over time, which is the reason why students must be updated with the recent changes and amendments before applying for a particular institute or business school.
The List Of Entrance Exams For MBA Admission in India
The following are some of the lists of required entrance examinations for MBA Admission in India.
Specialization For MBA Or PGDM Course
It should be kept in mind that there are currently more than 30 specialization courses for MBA Admission in India that is offered by management institutes all over India. When it comes to traditional courses, marketing, finance, international management, IT systems, human resources, and entrepreneurship and operations management – these are some of the most sought after MBA specialization courses that students tend to prefer. The reason is that most students believe that these specialization courses are some of the safest career options out there.
Therefore, if students need to make the most out of their careers, then they need to first understand the various MBA courses list for specialization which will help them make the overall right choice for their careers. Choosing the right MBA specialization course can either make or break the career for the candidate.
Top MBA Colleges In India
MBA admission in India are available in a variety of specialities at over 5,000 MBA colleges (government and private). The Indian Institutes of Management (IIM), XLRI, ISB, IIT, SPJIMR, FMS Delhi University, MDI, IMT, and many more are among the top MBA colleges in India. Here are the top 5 colleges of india given under below.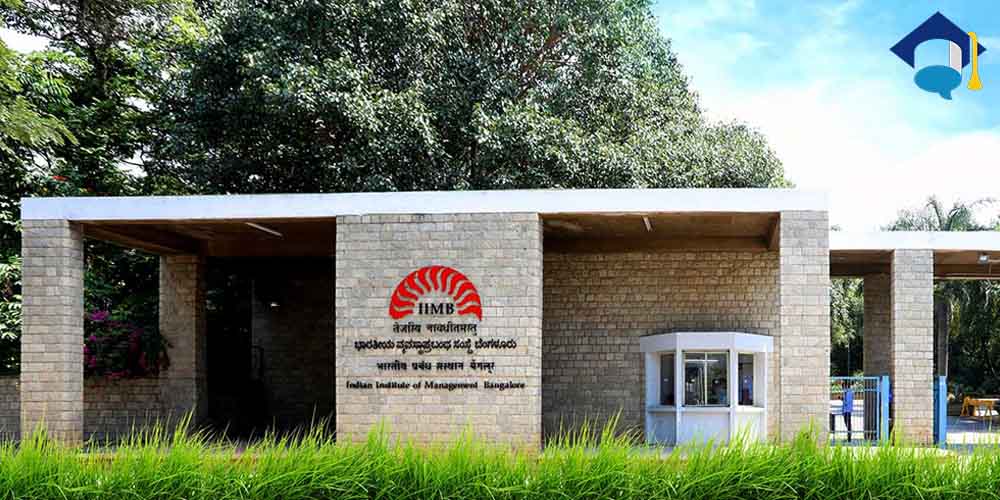 IIM Bangalore, often known as IIMB, is a public business school and Institute of National Importance that is situated in Bangalore, India. It was the third IIM to open, following IIM Calcutta and IIM Ahmedabad. It was founded in 1973.
The IIMB offers a two-year part-time executive Mba degree for efficient management, a one-year complete Master of Management Studies in Policy Research degree, and a two-year full-time MBA programme in Business Intelligence in addition to the doctorate (PhD). The N. S. Ramaswamy Pre-doctoral Fellowship (NSR Pre-doc), a one-year full-time apprenticeship programme, and the Mahatma Gandhi National Fellowship (MGNF), a two-year academic programme, are two examples of the certificate programmes.
IIM Bangalore provides the Executive Post Graduate Programme in Management (EPGP), a flagship one-year full-time residential MBA programme that is based on global MBA methodology, for candidates with greater experience who are approved through the Graduate Management Admission Test (GMAT).
The IIMB also provides a one-year full-time Master of Management Studies degree, a two-year full-time Master of Public Policy degree, a two-year part-time Executive MBA programme for serving executives, and a doctor of philosophy degree. Analytics for Business MBA programme (Ph.D.). The N. S. Ramaswamy Pre-doctoral Fellowship (NSR Pre-doc), a one-year full-time apprenticeship programme, and the Mahatma Gandhi National Fellowship (MGNF), a two-year academic programme, are two examples of the certificate programmes.
The top business school in India is the Indian Institute of Management Ahmedabad (IIM Ahmedabad), which is situated in Ahmedabad, Gujarat. The Ministry of Human Resources, Government of India, granted the institution the designation of an Institute of National Importance in 2017. The institute, which was founded in 1961, provides a multitude of executive training programmes, fellowship opportunities, and master's degree programmes in management and agri-business management. Ravi J. Matthai is the institute's founding director. Indian businessman Kasturbhai Lalbhai, Indian educator Kamla Chowdhary, and Indian physicist Vikram Sarabhai were among notable founding members. With the active assistance of the Government of India, the Government of Gujarat, Harvard Business School, and notable figures in Indian industry, IIM Ahmedabad was founded on December 11th, 1961. The institute was founded in large part by the scientist Vikram Sarabhai and the businessman Kasturbhai Lalbhai, both of whom are from Ahmedabad. In his honour, the institute has named its Kasturbhai Lalbhai Management Development Centre and the Kasturbhai Lalbhai Chair in Entrepreneurship. It was also greatly influenced by the merchants from Ahmedabad, including the management instructor Ravi J. Matthai. The institute's initial faculty member and programme coordinator from 1962 to 1965 was Kamla Chowdhary.
The Planning Commission was given the responsibility of overseeing and guiding India's development after the country gained its independence in 1947. The public sector firms that were being founded in India as part of its industrial policy multiplied in the 1950s, and by the late 1950s, the Commission was having trouble locating qualified managers for them. The Planning Commission recruited Professor George Robbins of the University of California to assist in the establishment of an all-India level institute of management studies in 1959 to address this issue. The Indian government chose to establish two prestigious management institutes under the name Indian Institutes of Management based on his proposals.
The Indian Institute of Management Calcutta (IIM Calcutta or IIM-C), It was the first Indian Institute of Management to be formed. A public business school, is located in Joka, Kolkata, West Bengal, India. The Indian government named it an Institute of National Importance in 2017. It was the first Indian Institute of Management to be formed. A two-year full-time MBA, a one-year full-time Post Graduate Diploma (PGPEX-VLM), a one-year MBA for experienced executives, a doctor of business administration programme, a two-year full-time Post Graduate Diploma in Business Analytics, and a one-year full-time Healthcare Management programme are among the courses offered by IIM Calcutta. IIM Calcutta is the first of only three Indian business schools to gain triple accreditation.
The Government of India established the Indian Institute of Management Kozhikode in 1996 in partnership with the Government of the State of Kerala. The first class of 42 students started classes in 1997 at the temporary site of the National Institute of Technology Calicut. The location of the current campus at Kunnamangalam was discovered in 2000. [Reference needed] The institute's design and construction were started the next year by Stein Mani Chowla Architects and Joseph Stein, who also designed the India Habitat Centre in Delhi. [Reference needed] IIM Kozhikode began utilising its campus on a hill in 2003. The campus was opened by APJ Abdul Kalam, who was India's president at the time. For working executives, Interactive Learning, a hybrid model management education programme, was established in 2001–2002. The intensive and demanding learning programme in management for working executives was originally provided by IIM Kozhikode and was taught using a mixed hybrid paradigm. With 850+ class contact hours—equivalent to the PGP-BL one year model—the year-long Executive Management Education Programme, which began with 300 class contact hours in 2001–2002, is now the richest programme offered in the nation. The same year saw the debut of the Management Development Programme. 180 students were enrolled in PGP by the institute in 2005. The admissions for the 2013 batch of PGP is approximately 361.
In 2007, IIMK launched the Fellow Program in Management (FPM), which is currently known as the PhD Program. To raise the proportion of women in management positions in India, the PGP course's proactive rise in the female enrollment to 30% began with the 2010–12 cohort. As part of the Singh-Obama Knowledge Initiative, Yale University and IIMK signed a memorandum of agreement in 2010 to establish a Center of Excellence for Academic Leadership.
Sixth Indian Institute of Management (IIM) following IIM Calcutta (1961), IIM Ahmedabad (1961), IIM Bangalore (1973), IIM Lucknow (1984), and IIM Kozhikode, IIM Indore was founded in 1996. (1996). [9] At first, it operated from Rajendra Nagar, Indore's Government Polytechnic College. Its inaugural MBA (PGP) batch, which included 37 students, began in June 1998. [citation
In his capacity as the institute's first director, Dr. Vijendra Nath Asopa assumed control. In 1999, Dr. Rajan Saxena took over as director. [Reference needed] IIM Indore was given its first honour at the "World Strategy Forum" held at the Nehru Center in Mumbai, which was sponsored by Business Standard.